Community website by MBC/Ernest Abrams. Call 808-739-9797 for advertising/sponsorship
Ala Moana - Honolulu, Hawaii
News Item

Ala Moana-Kakaako Neighborhood Board Meeting November 2019 Minutes
With Permission / Courtesy of
: City and County of Honolulu Neighborhood Commission Office
<!#450IMAGESTART>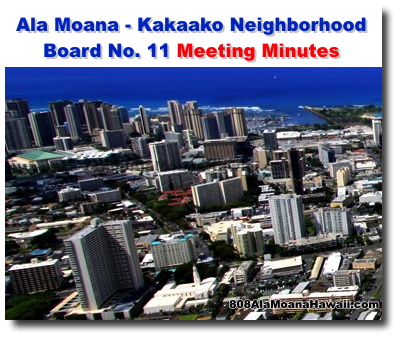 <!#450IMAGEEND>
DRAFT REGULAR MEETING MINUTESTUESDAY, NOVEMBER 27, 2018MAKIKI CHRISTIAN CHURCH
CALL TO ORDER - Chair Ryan Tam called the meeting to order at 7:04 p.m. Quorum was established with six (6) members present. Note - This nine (9)-member Board requires five (5) members to establish quorum and to take official Board action. Chair Tam welcomed attendees to the November 2018 regular monthly meeting of the Ala Moana/Kaka ako Neighborhood Board No. 11 and explained that the Neighborhood Board system was established to promote citizen participation in the government's decision-making process.
Board Members Present - Rodney Chang, Lynn Mariano, Michael Zehner, Ryan Tam, Susan Oppie, and Chris Chung.
Board Members Absent - William Ammons, Jayne Cloutier, and Ron Komine.
Vacancies - There were no vacancies.
Guests - Charles Izumoto (Senator Sharon Moriwaki's Office), James Stone (House Speaker Scott Saiki's Office), Representative Tom Brower and staff member (Representative Tom Bower's Office); Deputy Director Ian Santee (Mayor Kirk Caldwell's Representative, Honolulu Emergency Services Department); Councilmember Carol Fukunaga, Cliff Kaneshiro (Councilmember Ann Kobayashi's Office), Firefighter Emile Meder (Honolulu Fire Department); Sergeant Ray Lurbe (Honolulu Police Department, District 1); Alana Pakkala and Tiffany Vara (P ani K kou), Steve Teves (Design Partners, Inc.), Michele Masterfano (Kapi olani Town House), Ronald Higa (Liliha/Pu unui/ lewa/Kamehameha Heights Neighborhood Board No. 14), Jeff Carbaugh (Hawai i Convention Center), A.P. and Audrey Lee (M lama Ala Moana), Pat Lee (Honolulu Authority for Rapid Transportation), Lauren Martinez (Integrated Multimedia Consultants), and K. Russell Ho (Neighborhood Commission Office).
PUBLIC SAFETY REPORTS
Honolulu Fire Department (HFD), P wa a Station ??? Firefighter Emile Meder reported the following:
• October 2018 Fire Statistics - There were 2 structure fires, and 2 nuisance fires; 26 activated alarms (no fires), 244 medical emergencies, 3 motor vehicle collisions with pedestrians, 3 motor vehicle crashes/collisions, and 2 ocean rescues.
• Fire Safety Tip: Cooking Safety - Cooking brings family and friends together, provides an outlet for creativity, and can be relaxing. However, cooking fires are the number one (1) cause of home fires and home injuries. By following a few safety tips, you can prevent these fires:
o Cook with caution. Be on alert. If you are sleepy or have consumed alcohol, do not use the stove or stovetop.
o Stay in the kitchen when you are cooking.
o Keep anything that can catch fire, including oven mitts, wooden utensils, food packaging, and towels away from your stovetop.
o Keep children at least three (3) feet away from the stove.
o If you have a small grease cooking fire, smother the flames by sliding a lid over the pan and turning off the burner. Leave the pan covered until it is completely cooled. For an oven fire, turn off the heat and keep the door closed.
o If you have any doubt about extinguishing a small fire, get out of the house and call 911. When you leave, close the door behind you to help contain the fire.
Honolulu Police Department (HPD), District 1 - Sergeant Ray Lurbe reported the following:
• October 2018/September 2018 Statistics - There were 22/10 motor vehicle thefts, 2/10 burglaries, 136/141 thefts, 39/25 unauthorized entries into motor vehicles (UEMV) or break-ins, 24/14 assaults, 7/7 sex assaults, 0/1 graffiti incidents, and 11/13 drug offenses. There were 6,367/6,337 calls for service. More statistics can be found on the HPD website at -
www.honolulupd.org
.
• Pedestrian Safety Tips:
o Be safe and be seen: Make yourself visible all drivers. Wear bright/light colored clothing and reflective materials. Carry a flashlight when walking at night. Cross the street in a well-lit area at night. Stand clear of buses, hedges, parked cars, or other obstacles before crossing, so drivers can see you.
o Be smart and alert: Avoid dangerous behaviors. Always walk on the sidewalk. If there is no sidewalk, walk facing traffic. Stay sober; walking while impaired increases your chance of being struck. Do not assume vehicles will stop. Make eye contact with drivers and do not just look at the vehicle. If a driver is on a cell phone, he or she may not be paying enough attention. Do not rely solely on pedestrian signals. Look both ways before you cross the road. Be alert to engine noise or backup lights on cars when in parking lots and near on-street parking spaces.
o Be Careful at Crossings: Look before you step. Cross streets at marked crosswalks or intersections. Obey traffic signals such as WALK/DON'T WALK signs. Look left, right, and left again before crossing a street. Watch for turning vehicles. Make sure the driver sees you and will stop for you. Look across ALL lanes you must cross and visually clear each lane before proceeding. Even if one motorist stops, do not presume drivers in other lanes can see you and will stop for you. Do not wear headphones or talk on a cell phone while crossing.
Comments followed:
1. Burglary Type: Oppie asked about whether or not the burglaries were business or homes. Sergeant Lurbe responded that he thought that they were mostly home burglaries, especially during holiday season. He suggested that neighbors are the most important at helping to prevent burglaries.
2. Homeless: Mariano suggested that the police use the neighborhood watch to monitor the streets, as the homeless are moved out of the parks. Sergeant Lurbe urged members to call the district administration section, and that the officers would address the complaints.
3. School Boundaries: Chung asked about school boundaries and extra protections for juveniles around McKinley High School. Sergeant Lurbe noted that when juveniles commit crimes, they will be addressed, especially at the schools. More crime is around the intermediate schools than the high schools.
4. Moped Noise Citations: A resident (Brian Bagnall) asked why moped noise citations are not reported in the police report. Sergeant Lurbe noted that moped noise has decreased somewhat relative to before the moped registration law was enacted; some noise citations have been given - especially those at the third watch (night). Sergeant Lurbe also noted that daytime noise enforcement needed to be stepped up.
ELECTED OFFICIAL REPORTS
Mayor Kirk Caldwell's Representative - Deputy Director Ian Santee, Honolulu Emergency Services Department (HESD) reported the following:
1. Water Main Break on Kapi olani Boulevard - Deputy Director Santee noted that information about Board of Water workshops throughout the year can be obtained at
www.boardofwatersupply.com
or at 748-5041.
2. Sidewalk on Kapi olani Boulevard - The sidewalk damage is not related to the water main break, and was caused by a contractor working on the building. A temporary sidewalk closure is necessary to properly repair the damage to the sidewalk and restore access by pedestrians. The contractor is aware of the inconvenience to the public and will re-open the repaired area as soon as possible.
3. Use of Alarms, Sirens, and Flashing Lights on Fire Engines - When the HFD is dispatched for assistance, emergency lights and audio-warning devices are activated in accordance with Section 15-4.4 of the Traffic Code of the City and County of Honolulu. Further, the National Fire Protection Association also identifies minimum audio-warning devices and emergency lights for fire apparatuses. Audio-warning devices, which include air horns and lights, facilitate a timely delivery of emergency services. These devices will be used only as necessary to prevent a delay of emergency services, unnecessary property damages, or loss of lives by warning drivers and pedestrians that they must yield to an emergency vehicle.
4. Bulky Item Pick-Up around Rycroft, Pensacola, Liona, and Kaheka Streets - The delayed pickup has been due to lack of available equipment/manpower for bulky item pickup and delays at the end disposal sites. The Department of Environmental Services (ENV) is planning several changes to its bulky item collection system that will help to ensure material is collected on time and reduce the amount of unauthorized material placed out for collection. Changes include hiring more collection workers and increasing public education and enforcement to ensure compliance with the City's bulky item set-out requirements. ENV also plans to test an appointment-based collection system for bulky items in the Honolulu area early next year that will help the City make more efficient use of its collection resources.
5. Pedestrian Safety Around Ala Moana Area - The Department of Transportation Services (DTS) considers the evaluation of signals before removing marked crosswalks. For high volume roadways, if signals are not warranted, and improvements are not feasible, it may be necessary to remove crosswalks in accordance with the Complete Streets Guidelines. Ala Moana Boulevard is under the jurisdiction of the State of Hawaii Department of Transportation (HDOT).
Comments followed:
1. Chang asked when the island at the intersection of Kapi olani and Sheridan Street would be installed. Deputy Director Santee would follow up.
2. Resident (Brian Bagnall) noted that the sidewalk on Kapi olani Boulevard has been closed for nine (9) months, and asked how construction contractors are allowed to block the sidewalk for so long of a period. Mariano commented that contractors should setup a temporary sidewalk, and is wondering why the City is not enforcing some of these permit regulations.
3. Tam indicated that there was also a resident question about the safety of vehicles turning across the South Street bike lane, and whether or not warning signs would be needed.
Chung reported that the most accidents in the U.S. occur around the Ala Moana Center and asked for an accident report for the area. Governor David Ige's Representative said the statistics do not compare "apples to apples," as they add in the accidents at the Ala Moana Center and those of the State Ala Moana Boulevard. Councilmember Fukunaga is promoting pedestrian-activated crossing signals instead of crosswalk removal. What is the DTS response? No response.
Councilmember Carol Fukunaga - Councilmember Fukunaga distributed her Neighbor to Neighbor newsletter and acknowledged the turnout at the Climate Change Forum in October. Fukunaga indicated that the Blaisdell turnout was the largest out of all the regions - over 150 people. Fukunaga highlighted that one of the key issue for the Office of Climate Change, Sustainability, and Resiliency is identifying what actions the City should prioritize first. There will be another forum that will be held with an expert from the Netherlands. The National Climate Assessment Report has a grim outlook for the Pacific Islands and Hawaii if we do not prepare for sea level rise and climate adaptation, and there are lots of concerns about the long-term safety and security of the Ala Moana-Kakaako areas. We also want to make sure that the rail transit line and the key transportation assets along the southern shore are safeguarded. There are about 12 years to come up with some immediate strategies.
Comments followed:
1. Mariano asked about collaborations between the HPD and the neighborhood watches with regards to homeless and park closures. Councilmember Fukunaga indicated that maintenance was a function of the Department of Parks and Recreation (DPR). The Mayor proposed two (2) pieces of legislation [Bill 51 and 52] to prohibit the obstruction of sidewalks or illegally lodging on sidewalks. The Council did amend these bills and is requiring an action plan as to where the homeless would go in each council district. The Mayor's administration did submit a Homeless Action Plan, but the Council did want a timetable to ensure that the services and house are available to support police enforcement. The City is looking to the State for additional help on stabilization, detox, and crisis beds that are attached to medical services. The next step is to work closely with the police, city, and state counterparts. Councilmember Fukunaga also noted that the neighborhood security watches have a good ongoing relationship with the beat officers, who can work with the homeless outreach team and others to work together to address the issues.
2. Tam noted that getting services into the community is something which the Board could help out with.
3. Chung noted that extreme temperature changes put more energy into the climate system, and asked what could be done to protect low-lying areas such as Ala Moana. Councilmember Fukunaga responded that there needed to be a broad-based, team effort between city, state agencies and communities. The dangers are not just sea level rise and hurricanes, but could include extreme weather: intense rains could also include trees, boulders, and flooding. Need to develop resiliency plans—community emergency response teams. Manoa and Ewa Beach have organized into smaller neighborhoods where people can pull together to protect themselves.
Councilmember Ann Kobayashi - Cliff Kaneshiro distributed Councilmember Kobayashi's District V newsletter and highlighted that the city pools would be heated later in the season that normal. Councilmember Kobayashi also introduced a resolution to urge the City administration to adopt a Vision Zero policy, which is a comprehensive strategy to eliminate traffic deaths and injuries. Kaneshiro was available to hear concerns.
Councilmember Trevor Ozawa - Councilmember Ozawa's Community Report was available.
State Representative Tom Brower - Representative Tom Brower made his Neighborhood Board Report available and noted that the HPD does report muffler citations to the Waikiki Neighborhood Board as part of their crime statistics report. Representative Brower thinks that there is a new type of muffler which may be increasing noise issues.
Comments followed: Driver's License Renewal Procedures - Chung asked about the driver's license renewal procedures, and found that the written tests elsewhere have more questions and requires more correct answers. Representative Brower indicated that this is less of a state issue, but is willing to help do research. Chung indicated that more education could help to improve safety.
House Speaker Scott Saiki - James Stone distributed a Neighborhood Report and was available to hear concerns.
State Senator Sharon Moriwaki ??? Charles Izumoto attended on behalf of Senator Moriwaki and is looking for suggestion for legislation. Senator Moriwaki intends to hold many Town Hall meetings.
Governor David Ige's Representative - Chair Tam mentioned that Cindy McMillian, Director of Communications, could not attend. The November 2018 issue of the Capitol Connection was provided.
AGENCY REPORTS
Hawaii Community Development Authority (HCDA) - Garrett Kamemoto reported that the Board approved the restoration of the historic Universal Building along Ward Avenue and its conversion to a Patagonia store.
Comments followed:
1. Parks Transfer - Chung asked about the status of the parks transfer to the City. Kamemoto indicated that a resolution was to be heard at the City Council Parks Committee to approve the transfer, and would go to the full Council in December.
2. Private Streets - Chair Tam asked about the enforcement of the Private Streets in Kaka ako. Kamemoto indicated that there would be more to report in the next month. The Board did authorize the Executive Director to take an enforcement action.
Honolulu Authority for Rapid Transportation (HART) - Pat Lee reported the following:
• The first nine (9) rail stations on the west end of the project are expected to be completed by the middle of next year (2019). The three (3) stations in Kapolei (West Oahu Stations Group): Kualakai at the Kroc Center, Keoneae at University of Hawaii West O'ahu (UHWO) and Honouliuli in the Ho opili area, are about 68% completed. The Farrington Highway Stations Group in Waipahu: Ho ae ae at Leoku Street, Pouhala at Mokuola and the Halaulani station at Leeward Community College (LCC) are about 80% completed. The Kamehameha Highway Stations Group in Pearl City, Aiea and Halawa: Waiawa at Pearl Highlands, Kalauao at Pearl Ridge Center and Halawa at Aloha Stadium are 51% completed.
• Park-and-Ride facilities are planned at UH West Oahu, at Pearl Highlands, Aloha Stadium, and near the Kroc Center. These total 4,100 parking stalls.
• Interim service opening between the Halawa and Kualakai stations is planned for the end of 2020.
• Rail work also continues between Aloha Stadium and Middle Street, where crews are building the foundations and columns near Pearl Harbor and the airport. Workers will start erecting the guideway soon. This segment contains four (4) stations, including one (1) serving the Daniel K. Inouye International airport.
• Advanced utility relocations are taking place to make way for the rail columns, guideway and stations between Middle Street and Ala Moana Center. This work is "task order" driven to minimize disruption to area businesses and residents. In this area, Honolulu Authority for Rapid Transportation (HART) has contractors performing "potholing" to locate underground utilities. Wet utilities include sewer and water lines, and dry utilities are gas, electrical, tele-communication lines, etc. Royal Contracting is doing potholing on Halekauwila between Keawe and Coral Streets and NAN, Inc. will be doing potholing and probing work on Queen Street between Ward Avenue, Kamakee Street, and Pi ikoi Street.
• Holiday Work Restriction - As part of the Annual Holiday Travel Work Restriction period in collaboration with the State Department of Transportation and the City Department of Transportation Services, there will be no planned rail construction work- related lane closures during the Holidays. Details are available from HART.
• For more information on the rail project, the HART website is
www.honolulutransit.org
, you can call the project hotline at 566-2299 or email a question to
info@honolulutransit.org.
Chair Tam asked about processes to notify the community about construction. Lee indicated that the contractor would be doing periodic community meetings (quarterly). The contractor is also canvassing door-to-door to talk about the upcoming construction work.
Honolulu Board of Water Supply (BWS) - Chair Tam read the BWS report and noted that there were no water main breaks in October 2018. The BWS also wanted remind customers to be wary of potential scams involving fraudulent phone calls or visits from people claiming to represent the water agency. The BWS does not call customers outside its business hours of Monday to Friday, 7:45 a.m. to 4:30 p.m., to request for payment. BWS does not call customers, demand payment, and does not ask for credit card payment. Customers need to safeguard your personal information and hang up on suspicious callers. If you feel pressured for immediate payment or personal information, hang up the phone and call BWS customer service at 748-5030 during normal business hours. During other times, call the Honolulu Police Department (HPD) at 911.
PRESENTATIONS
Ala Moana Beach Playground - Alana Pakkala and Tiffany Vara of P ani K kou and Steve Teves of, Design Partners have been working for two (2) years on a concept for an inclusive destination playground, constructed solely through private funds and then donated to the City and County of Honolulu, designed by local children, for all children, free to all families.
??? Inclusivity: One (1) in seven (7) children has some form of disability or difference that makes it difficult or impossible to access play opportunities in traditionally-designed playgrounds. Our project is designed with all children in mind, so that each can experience the joys, challenges, and growth that comes through play. Inclusivity does not mean that every piece of equipment will be accessible in a uniform way for all kids. It does mean, however, that every part of the playground provides spaces and ways for all children to be a part of the action. Inclusive design is also mindful of the needs of family members with disabilities, including kupuna and veterans, so that all families can enjoy the playground together. At this time, there is no free inclusive play opportunity available in Hawaii.
• Designed by local children: We asked each City Councilmember to nominate two (2) schools in his or her district to be survey sites for our project. We worked with upper and lower elementary classrooms in these schools to solicit insight, ideas, and requests from students, through approximately 480 returned surveys. Classrooms then selected representatives to send to our Student Charrette on Saturday, April 28, 2018. Four (4) age-grouped meetings, which also included some private school students, were led by our playground designer. The outcome of the charrette changed our initial design drastically.
• Safety and Sustainability: We want to the playground to be a safe environment at all times, and to look as good in 10 years as it does the day it opens. To accomplish these goals we have put much time and effort into non-play considerations:
o The playground will be fenced, with one (1) point of patron entry, and one (1) additional access point for emergency vehicles.
o The playground will operate under special rules, like the tennis courts, its hours of operation will differ from the park's hours. These rules will also allow Park Rangers and HPD to remove people, who are not using the playground for its intended purpose.
o Retail quality restrooms, constructed for playground usage only. These will be cleaned hourly and locked off when the playground is not open. There will be an adult-sized changing table in the family restroom.
o A new concession will be built, and run by a vendor to be selected by the City. The concept is a local-style crack seed store, with healthy option grab-and-go foods, and convenience items that will enhance playground visits. The concession will provide presence during playground hours, which is shown to be a key factor in safety. They will also maintain the restrooms.
o A work space for HPD will be part of the new building. Providing access to a desk, Wifi and a clean restroom at night will promote their presence during hours of closure.
o An office space for the Park Ranger program will also be provided in the new building.
o Our 501(c)3, Pa ani Kakou, was established to bring this playground to life, and will retain the right to maintain the playground after gifting it back to the City. So, while it will be a City park, maintained by the City, if, for some reason, there is damage at the playground and it cannot be addressed quickly, Pa ani Kakou will have the right and ability to do repairs.
o A Hawaii Sense of Place - Our first meeting at the beginning of the project was with the cultural descendants of this area. They have been supportive and involved throughout, including being part of the Student Charrette. The Polynesian Voyaging Society is working closely with us on the design and concept of the playground. Special features of the playground include a large star compass, and to-scale renderings of H k le a and Hikianalea.
Comments followed:
1. Timing: Mariano asked about timing of the project development process. Pakkala responded that the intention was to submit for a permit later this year. The fundraising effort has started, and the hope is to be able to start construction next year. Construction should take six (6) to seven (7) months. Everyone working on the project to date have been community volunteers.
2. Maintenance: Mariano also asked about future maintenance. Vara responded that the playground will be gifted back to the city, and that it will be a city responsibility to maintain. As part of the gift agreement, Pa ani Kakou will retain the right, but not the responsibility, to maintain areas in the playground. The playground will always be maintained. Pakkala indicated that the intention is to do extra fundraising and maintain an extra stock of items that typically need replacement, like swings. They are also working with the City Council for the concession to be able to support the playground, but that remains to be seen.
3. Control: Chang asked about how the use of the park will be controlled during operation. Pakkala noted that like other City parks, nobody is monitoring the playground - its intended for families to come and monitor their own children. Pakkala has been talking to the Mayor's Office and various City Councilmembers to talk about a suggestion from the Honolulu Police Department (HPD) to have a Park Ranger assigned to the playground. Park Rangers could be trained to identify when HPD should be called in. The proposed HPD comfort station would also help the safety of the area. Vara noted that there will be special rules for the playground, like the tennis courts, and will help the ranger and HPD to manage use of the playground. The intention is that the presence of a concession will also help safety, and that the concession would maintain the cleanliness of the restrooms to a retail standard as part of the lease requirement. Food would be allowed in the park.
4. Development: Oppie asked if this would be part of the Ala Moana Beach Renovation project. Pakkala indicated that the project did come about organically, and did come about in reaction to the master plan process. Pakkala went to the Mayor's Office and indicated that they thought that they could fundraise for the playground, so it went into the Master Plan.
5. Climate Change: Oppie asked about how climate change fits into this plan. Teves noted that there will not be a lot of modifications to the existing ground. Buildings will be built to code.
6. Staffing: Mariano commented that the DPR is short-staffed. There may need to be additional staffing to control complicated playground features like the zip lines, for example. Pakkala indicated that all of the equipment is made for a public park and are all very straightforward to use. It will be a 100% public park.
7. Fundraising: Resident asked about the fundraising goal and whether it will be part of the Environmental Impact Statement. Vara indicated that they are getting a new construction price quote.
8. Sea Level: Resident commented that within nine (9) to 10 years, the King Tides will already be up to the shopping center, and that the area will be flooded, unless a sea wall is built and the ground level is raised. Resident questioned if another location could be considered, since the area will be unusable in the future. Vara indicated that land is the biggest challenge. The site needed to be close to public transportation, so that when the agreement was put together for this site, the group chose to pursue it. It could be a pilot project for inclusive play, and that it is the first. Pakkala noted that there are no City/State/government funds for this project, and that it is completely private.
9. Fence: Chung suggested that the fence could be higher in order to deter vandalism at night. Pakkala indicated that more families using the park would help to improve safety.
Condo Funds Investment - Liz Masterfano noted that the law for association of apartment owners (AOAO) requires that all funds must be deposited into a financial institution in the State of Hawaii. The issue is that banks on the mainland are offering higher rates of return, and that there is no reason to keep the money in Hawai i, since everything is electronic these days. Masterfano is looking to the Board for a resolution or a petition to obtain a hearing when the Legislature convenes in January 2019.
• Chang noted that a law provides for a securities broker or mutual funds, which could also achieve the outcome of higher rates of return. Masterfano indicated that CD laddering is what is being offered, and that it doesn't work well if the desire is to keep funds liquid.
• Chair Tam suggested that Masterfano could talk to the legislators, and that this is more of a State issue.
??? Mariano suggested that this be discussed at a later time.
RESIDENTS' AND COMMUNITY CONCERNS
Kal kaua Housing Project Noise - Chair Tam noted that an email concern about construction noise will be forwarded on.
Upcoming Neighborhood Board Elections for the 2019 to 2021 Term - Neighborhood Assistant Ho noted that elections are held in odd-numbered years for a two (2)-year term. Applications will be open from December 2018 to February 2019. Elections will be held in March 2019 and April 2019. The new term begins on Monday, July 1, 2019. The Neighborhood Commission Office (NCO) needs to get the information out to the people.
• Chair Tam suggested that outreach could be done to the Condo Board Associations.
• Zehner said that outreach could occur in front of the buildings.
Construction on Kapiolani Boulevard - Chair Tam noted that there was concern about damage to the monkeypod trees for the new building across from 24-hour fitness.
BOARD MEMBER REPORTS
Attendance at Other Meetings - Chair Tam attended the Climate Change forum on Monday, October 29, 2018. Mariano attended the Waik k Neighborhood Board No. 9 meeting in November 2018.
Community Action Committee (CAC) Report - The CAC talked about the Ala Moana Beach Park Playground and the Ala Wai Promenade Project and a potential idea to put lighting.
Chair's Report - No report.
UNFINISED BUSINESS
Consider Resolution Regarding Ke eaumoku Development ??? Chang noted that he was not in favor of increasing density. The high-density corridor was to be along Kapi olani Boulevard, not Ke eaumoku, which is already a busy corridor. People will have cars until Rail takes off, and that more development will create more congestion. Chang is okay with development, but not increasing the floor area ratio (FAR) or the height limit. Mariano added that the issues with delivery trucks on Ke eaumoku and the side streets could create additional delay, and that there needs to be more community input.
• Chang would make a motion to ask the City Council not to allow the increased FAR from 5.0 to 7.5 and increasing the height ceiling from 350 feet to 400 feet in the mauka precinct.
??? Chung noted that Transit-Oriented Development (TOD) means that people should not have a private car. This makes the units less attractive for developers. You can build a taller building, but not with parking spaces. That is not transit-oriented development.
• Oppie is also concerned about the effect of traffic. Chang noted that Liona Street currently has parking on both sides of the street, and makes it very difficult for traffic to pass in both directions. Sheridan Street can be backed up for twenty minutes, when Wal-Mart and Sam's Club are doing their deliveries.
• Chang further clarified that the area is from Rycroft Street mauka.
Chang moved and Mariano seconded a motion that the Ala Moana/Kaka ako Neighborhood Board No. 11 does not support any changes from the proposed height limits and floor area ratios that are in the Ala Moana TOD Plan, without further studies and public input, regarding traffic impacts and circulation. The Ala Moana/Kaka ako Neighborhood Board No. 11 ADOPTED the resolution, 5-0-1 (AYE: Chang, Chung, Mariano, Oppie, and Zehner; NAY: None; ABSTAIN: Tam [recused, due to employment with the Rail]).
Consider Resolution Regarding Alder Street Development - Oppie indicated concerns with the Alder Street development, and wanted more input from the agencies and developer regarding support for at-risk youth and the combination of the two (2) communities. Chair Tam clarified that the facility would stay. Chang concurred that there needed to be more input, especially on the inclusion of the probation office. Chair Tam indicated that he could provide these comments to the developer without a formal resolution, and that we would welcome additional input with the developer.
NEW BUSINESS
Consider Resolution Regarding Ala Moana Beach Playground - Chair Tam provided a draft resolution.
Chang moved and Chung seconded a motion that the Ala Moana/Kaka ako Neighborhood Board No. 11 supports the concept of a community partnership to develop a premier destination public playground at the Ala Moana Regional Park. Oppie noted the resident concern with the location of the playground. A resident also noted the concern about additional traffic and parking demands created by the playground, but that the concept is good for the community, but not Ala Moana.
Chair Tam handed the gavel to Zehner at 9:00 p.m.
Mariano suggested a change to the motion to incorporated "or other locations" into the resolution. Chair Tam noted that the Ala Moana site is what is under consideration; not any other locations (such as Mother Waldron Park). Chair Tam suggested that the suggestion for the alternate site could be provided separately in a comment letter.
Zehner handed the gavel back to Tam at 9:03 p.m. The Ala Moana/Kaka ako Neighborhood Board No. 11 ADOPTED the resolution, 5-1-0 (AYE: Chang, Chung, Mariano, Tam, and Zehner; NAY: Oppie; ABSTAIN: None). Tam noted that the comment letter would include concerns from Oppie and the resident would be included in a comment letter.
Consider Resolution Regarding Kaka ako Private Roads - Chair Tam provided a draft resolution.
Chang moved and Zehner seconded a motion that the Ala Moana/Kaka ako Neighborhood Board No. 11 (the Board) supports the enforcement of Chapter 206E, to maintain safe public access and mobility; and that the Board further urges the State of Hawaii and the City and County of Honolulu to resolve any outstanding issues regarding public access and privately-owned roads in Kaka ako and elsewhere on O'ahu. As there were no objections, the Ala Moana/Kaka ako Neighborhood Board No. 11 ADOPTED the resolution by UNANIMOUS CONSENT, 6-0-0 (AYE: Chang, Chung, Mariano, Oppie, Tam, and Zehner; NAY: None; ABSTAIN: None).
Discuss Park Security Pilot Project - Chair Tam tabled this item until the next meeting.
Consider Resolution Regarding Condo Funds Investment - Chair Tam tabled this item until the next meeting.
Discuss/consider Resolution Regarding Blaisdell Center Master Plan - Chair Tam indicated that members could provide comments individually to the City. Chung indicated that the McKinley High School is now willing to consider development, and that Hawaiian Electric Company (HECO) is also looking to develop their property. Chang moved and Oppie seconded a motion that the Ala Moana/Kaka ako Neighborhood Board No. 11 urges the City and County of Honolulu to consider integrating the Hawaiian Electric Company (HECO) parcel and McKinley High School into the Neal S. Blaisdell Center Master Plan. As there were no objections, the Ala Moana/Kaka ako Neighborhood Board No. 11 unanimously ADOPTED the resolution, 6-0-0 (AYE: Chang, Chung, Mariano, Oppie, Tam, and Zehner; NAY: None; ABSTAIN: None.
Post-Thanksgiving Community Reflection - There was no discussion, as has been done in the past.
BOARD BUSINESS
Board Representative's Report for the Oahu Metropolitan Planning Organization (OahuMPO) Citizen Advisory Committee (CAC) - Ammons was not present and no report was available.
Approval of the October 23, 2018 Regular Meeting Minutes - No report was available.
Treasurer's Report - Treasurer Susan Oppie reported that no report was available.
PERMITS, HEARINGS, AND APPLICATIONS
• Blaisdell Center Master Plan - The 30-day comment period for the Draft Environmental Impact Statement (DEIS) for the Blaisdell Center Master Plan will end on Monday, December 10, 2018. The DEIS may be viewed at:
http://oeqc2.doh.hawaii.gov/EA_EIS_Library/2018-11-08-OA-DEA-Neal-S.-Blaisdell-Center-Master-Plan.pdf.
• Ala Wai Canal Bridge Alternatives Analysis - The City and County of Honolulu Department of Transportation Services (DTS) is conducting a pre-assessment consultation on a proposed pedestrian, bicycle, and emergency response bridge or modifications to one (1) or more existing bridges located along the Ala Wai Canal. More information is available at:
www.honolulu.gov/completestreets/alapono
.
COMMUNITY NEIGHBORHOOD WATCHES
• Mother Waldron Park (525 Cooke Street) - Mondays, 5:15 p.m.;
??? Sheridan Park (833 Pi ikoi Street) - Monday/Tuesdays, 7:00 p.m.;
• Keola La i Condominium (600 Queen Street) Tuesdays, 5:15 p.m.;
• Kolowalu Park (1177 Queen Street) - 1st and 2nd Thursdays, 6:00 p.m.
??? Atkinson Towers (419A Atkinson Drive) - Tuesdays, 6:00 p.m.
ANNOUNCEMENTS
• Upcoming Meetings - Chair Tam indicated that Climate Change meeting will held on Wednesday, November 28, 2018. A hearing on the Ward Avenue repaving will be held on Thursday, November 29, 2018.
• Recess - The Ala Moana/Kaka ako Neighborhood Board No. 11 will RECESS in December 2018.
• Next Meeting - The next regular meeting of the Ala Moana/Kaka ako Neighborhood Board No. 11 is scheduled for Tuesday, January 22, 2019.
??? Upcoming Committee Meetings - The next meeting for Community Action Committee (CAC) will be held on Thursday, December 13, 2018 at the Ala Moana Regional Park, McCoy Pavilion Dining Room.
• lelo Broadcasts - Broadcasts of the Ala Moana-Kaka ako Neighborhood Board No. 11 meetings are on lelo 49 on the first and third Thursdays at 8:00 a.m. and every second Sunday at 6:00 p.m.
• No Loitering - Please do not loiter on Makiki Christian Church grounds after 9:00 p.m. Mahalo.
ADJOURNMENT - As there was no further business before the Board, Chair Tam adjourned the meeting at 9:12 p.m.
Submitted by: K. Russell Ho, Neighborhood Assistant and Ryan Tam, Chair
Reviewed by: Jackson Coley, Public Relations Specialist
Reviewed by: Lynn Marino, Secretary
Reviewed by: Ryan Tam, Chair
Featured Product/Service
<!998Template_start>
<!998Template_end>
---
Please send questions about this website to