Community website by MBC/Ernest Abrams. Call 808-739-9797 for advertising/sponsorship
Ala Moana - Honolulu, Hawaii
News Item

Ala Moana-Kakaako Neighborhood Board Meeting MARCH 2023 Minutes
With Permission / Courtesy of
: City and County of Honolulu Neighborhood Commission Office
<!#450IMAGESTART>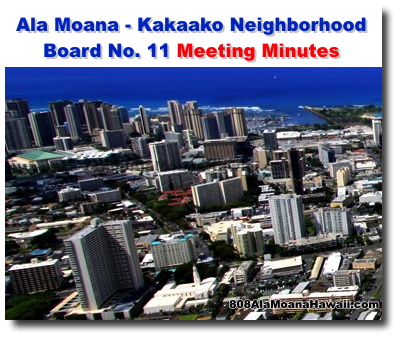 <!#450IMAGEEND>
ALA MOANA - KAKA'AKO NEIGHBORHOOD BOARD NO. 11
March 2023 Minutes
DRAFT REGULAR MEETING MINUTES

TUESDAY, MARCH 28, 2023, 6:00 P.M.

MAKIKI CHRISTIAN CHURCH AND ON WEBEX
CALL TO ORDER: Chair Lee called the meeting to order at 6:03 p.m., performing a roll call, Quorum was established with seven (7) members present. Note: This 11-member Board requires six (6) members to establish quorum and to take official Board action. Meeting materials are available online at: https://tinyurl.com/nb11home
Board Members Present: Dyson Chee, Lori Farinas, Kathleen Lee, Michael Zehner, Jeanne Rice, Lynn Mariano, Chris Chung, Joshua Nam, Rodney Chang and Jason Wong.
Board Members Absent: Caroline Faringer.
Guests: Lieutenant Sagucio (Honolulu Police Department); Councilmember Calvin Say, Francine Murray (HCDA); Dan Rapkoch (Governor Green's Representative); Patrick Watson and Harry Cho (HART); Robin Henski (Councilmember Dos Santos-Tam); Taylor Date (Representative Nishimoto); Bishop Reyn Yorio Tsuru and Reverend Quinn Hashimoto (Shinson Mission); Ronald Higa (Liliha Neighborhood Board No. 14); Mr. Toba, Dennis Dumale, Pualani Hao, William Ammons, Adrienne Moretz, Frank Rogozienski, David Yamane, Logan Hanohano, Lee Cranmer, Janel Denny, Representative Adrian Tam, Ryan Tam, BC Keoki Kaalele, Tom Schnell, Carlino Giampolo, Steven Forrest (Residents and Guests); and Spencer Johnson (Neighborhood Commission Office). There were 60 total attendees. Note: Names are not included if not legible on the guest sheet.
PUBLIC SAFETY REPORTS

Honolulu Police Department (HPD): Lieutenant Sagucio reported the crime statistics and HPD updates. For more information, visit: https://www.honolulupd.org.
Questions, comments, and concerns followed.

1. Scrambled Crosswalks: Farinas inquired about the installation of scrambled or diagonal crossings on Kapiolani Boulevard and Kamakee Street. Rice inquired about traffic feedback relating to scrambled crosswalks in Waikiki.

2. Traffic Light Syncing: Mariano requested the traffic light timing be synchronized on major roadways, preventing the same vehicles stopping at every intersection.

3. Pensacola Complete Streets: Mariano raised concerns about the proposed decrease of traffic lanes on Pensacola Street for the Complete Streets project.
Honolulu Fire Department (HFD): No representative present. The report is available at: https://tinyurl.com/nb11home
PRESENTATIONS

Getaround Carsharing Company: Adrienne Moretz, Getaround, presented the following. Getaround is a roundtrip car share company. There will be two new vehicle locations; Ahana Street and Rycroft Street; and at Waimanu Street and Piikoi Street, each with two (2) vehicles in designated parking stalls. Company Website: www.Getaround.com
Questions, comments, and concerns followed.

1. Price: Chung inquired on the price to operate. Adrienne Moretz responded starting at $5.

2. Hui: Chang inquired about the difference between Getaround and Hui carshare companies.

3. Vehicle Type: Chee inquired about types of vehicles used, and electric vehicle possibilities.

4. Verification: Mariano inquired about the verification process for drivers.
Ward Village Community Update: Kaiulani Sodaro, Senior Vice President, Planning & Development, Howard Hughes presented the following. Groundbreaking for the new 697-unit development will occur at the end of 2023. The housing is reserved homes for local families, and will open in 2025 along with a park. Construction is underway at the Park - Ward Village, bringing an additional 546 new homes and 27,000 square feet of commercial and retail business space to Ward Village.
Questions, comments, and concerns followed.

1. Pets: Rice inquired about the residences allowing pets.

2. Traffic: Chung commented on traffic issues on Ward Avenue and suggested limited parking for residents. Mariano commented on traffic concerns.

3. Climate Change: Chee inquired about plans to address sea level rise.
BOARD BUSINESS

Approval of the February 28, 2023 Regular Meeting Minutes
The Board approved the February 2023 regular meeting minutes as written, by UNANIMOUS CONSENT.
Attendance at other meetings: None.
Neighborhood Subdistrict Updates: None.
Oahu Metropolitan Planning Organization Citizen Advisory Committee (CAC): Mariano reported attending the last meeting, and announced the next meeting will be held on Wednesday, April 5, 2023 at 2:30 p.m.
Chair's Report: None.
RESIDENTS' AND COMMUNITY CONCERNS:

Trash Pickups: Waikiki resident Carlino Giampolo raised concerns about early morning trash pickups disturbing residents.
Mother Waldron Neighborhood Park (dog park): Resident Steven Forrest raised safety, landscaping, seating, erosion, and security concerns.
Parking Meters: Chang raised concerns about parking meters missing their 'heads' or missing entirely on Piikoi Street.
Houseless: Chang raised concerns about increased number of houseless individuals in the Ala Moana area.
ELECTED OFFICIAL REPORTS

Mayor Rick Blangiardi: Executive Director Makanani Sala, Mayor's Office of Culture and the Arts, reported the following.

• Newsletter: https://www.oneoahu.org/newsletter.

• Parking: From March 7-19, 2023, District 1 (Central Honolulu) officers checked the area to address this issue. During that time, they only observed cars that were parked on private property. The Honolulu Police Department is unable to conduct enforcement on private properties.

• Tent Near Bike Factory: From March 7-19, District 1 officers made checks in the area, but they did not observe any tents or violations around the property. Officers will continue to make checks in the area and take appropriate enforcement action for any observed violations.

• Crossing Time: The Department of Transportation Services (DTS) checked the pedestrian crossing time for both Kapiolani Boulevard and Piikoi Street, and it is set appropriately. DTS reminds the public: a pedestrian should start to cross the street only when the white "walkman" appears and it is safe. Once the white walkman turns into a blinking red hand you can continue to cross. However, if you have not started to cross by this time DO NOT enter the crosswalk because you may not have sufficient time to cross the street safely. When the solid red hand is displayed, NO ONE should start to cross the street.
Councilmember Calvin Say: Councilmember Say reported the following.

• Newsletter: https://www.honolulucitycouncil.org/s/March-2023-Newsletter.pdf

• Website: https://www.honolulucitycouncil.org/district-5-say

• Budget Information: https://www.honolulucitycouncil.org/budget

• Pensacola Complete Streets: https://www.honolulu.gov/completestreets/keeaumoku
City Councilmember Tyler Dos Santos-Tam: Robin Henski reported the following.

• Newsletter: https://drive.google.com/file/d/1wzc9e12UbrPmu_CvvzTvXsMNPuO3nSVs/view?usp=sharing

• Office Contact: (808) 768-5006 - tdossantos-tam@honolulu.gov
State Representative Scott Nishimoto: Taylor Date reported the following.

• Easter Egg Hunt: There will be a family Easter event on Saturday, April 1, 2023 from 9:00 a.m. to 11:00 a.m.
State Representative Adrian Tam:

• Newsletter: https://www.capitol.hawaii.gov/memberfiles/House/Tam/Newsletters/2023MarNewsletter.pdf
State House Speaker Scott Saiki: Frank Rogozienski reported the following.

• Newsletter: https://saiki.house/NeighborhoodBoard
Senator Sharon Moriwaki: Senator Moriwaki presented the following.

• Kapiolani Pedestrian Safety: DTS is installing "slow down school zone" signs, speed humps, and red-light cameras near Keawe Street on Kapiolani Boulevard.
Governor Josh Green: Dan Rapkoch introduced himself provided the Governor's newsletter. Newsletter: https://governor.hawaii.gov/wp-content/uploads/2023/02/Ke-Ala-Hou-Newsletter-March-2023-WebPrint.pdf
Questions, comments, and concerns followed. Houselessness: Mariano commented on the need for City/State teamwork to address houseless concerns.
U.S. Congressman Ed Case: No representative was present.
AGENCY REPORTS

Hawaii Community Development Authority (HCDA): Francine Murray shared a newsletter and was available for questions.

• HCDA Newsletter: https://dbedt.hawaii.gov/hcda/files/2023/03/March-2023-Community-Connection-2.pdf

• HCDA Website: https://dbedt.hawaii.gov/hcda/
Honolulu Authority for Rapid Transit (HART): Harry Cho announced the following.

• Updates: For rail project updates on the Downtown Utilities Relocation/CCUR III work, please remember to sign up for the weekly Frank V. Coluccio Construction Co./HART e-blast at: http://eepurl.com/h1g2W5

• Meeting: HART and Dillingham Utilities contractor Nan, Inc. will be hosting an in-person community meeting on Thursday, March 30, 2023, at 7:30 p.m. at Kalihi Kai Elementary School. Meeting details can be found at https://honolulutransit.org/events/business-and-community-meeting-dillingham-utilities-relocation-20230330/
Questions, comments, and concerns followed. Completion: Chung inquired when rail will be completed to South Street. Harry Cho responded the anticipated date is in 2031.
Honolulu Board of Water Supply (BWS): No representative was present; a report was submitted.
ANNOUNCEMENTS

• Link to bill re: island-wide approach to regulate commercial activity in city parks - Department of Parks and Recreation: https://hnldoc.ehawaii.gov/hnldoc/document-download?id=16769

• Neighborhood Board Elections: Voting is from Friday, April 28, 2023 to Friday, May 19, 2023.

• For more information: https://www.honolulu.gov/nco/nbelections.html

• NB11 social media accounts: Facebook: https://www.facebook.com/AlaMoanaKakaakoNB11; Instagram: https://www.instagram.com/alamoanakakaakonb11/

• Covid-19 Vaccines: Find a vaccine provider near you at https://www.oneoahu.org/find-vaccine

• Permit Reviews: Development proposals that require neighborhood board input are posted at: http://www.honoluludpp.org/ApplicationsForms/ZoningandLandUsePermits/NeighborhoodBoardMaterials.aspx

• Liquor Commission Public Hearings (711 Kapiolani Blvd.): Thursday, May 4, 4:00 p.m. for Cino (987 Queen St., N-100) and Taqueria El Gallo Rosa (1200 Ala Moana Blvd., Space B001101)

• Next Meeting: The next regular meeting is scheduled for Tuesday, April 25, 2023 at 6:00 p.m. at the Makiki Christian Church and online via WebEx.

• lelo Broadcasts: Recordings of the meetings are broadcast on lelo 49 on the first and third Thursdays at 8:00 a.m. or 2:00 p.m., and every second Sunday at 6:00 p.m. Upcoming broadcast will be at 8:30 a.m. The full schedule is at https://olelo.org/tv-schedule/). Recordings may also be viewed at https://www.honolulu.gov/cms-nco-menu/site-nco-sitearticles/1657-board-meeting-video-archive.html
ADJOURNMENT - As there was no further business before the Board, Chair Lee adjourned the meeting at 8:30 p.m.
Submitted by: Spencer Johnson, Neighborhood Assistant

Reviewed by: Dylan Whitsell, Deputy

Finalized by: Kathleen Lee, Chair
Featured Product/Service
<!998Template_start>
<!998Template_end>
---
Please send questions about this website to